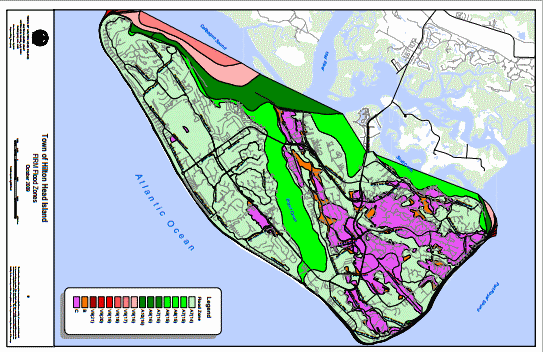 Floods are the number one hazard in the United States and it is important to remember floods can happen anywhere, at anytime. What many people do not realize is anywhere it can rain, it can flood and it is important to understand a property's flood risk and the options you have to financially protect it. What this means is even if you are not required to have flood insurance, your home may still be at risk for flooding.
Many people looking to purchase property in southern Beaufort County might not be familiar with flood insurance. Being a coastal community many in our area have become familiar with flood insurance as a means of necessity. However, this is not to imply you do not need flood insurance if you life away from the coast. We live in what is known as a 100-year flood zone. It is easy to be misled by this term, but what it means is there is a one percent or greater chance of a major flood occurring in a given year. It does NOT mean a flood will occur only once every 100 years.
We are also in a Special Flood Hazard Area which falls under the direction of FEMA (Federal Emergency Management Agency). Under the guidelines FEMA has set forth you can find the NFIP (National Flood Insurance Program) guidelines which will help you determine the type of coverage you need. This would be based off differing variables such as; the year your home was built, occupancy, height of first floor, contents, etc. A local, qualified insurance agent can help you determine what type of flood insurance to get to ensure you are fully covered. Flood insurance is often obtained from the same agent that provides your homeowners policy. To find an agent that is up to speed on current flood guidelines visit www.floodsmart.gov.
For more information on Flood Insurance in southern Beaufort County watch our video:
Oceanfront Homes for Sale
#blog-footer-oceanfront-homes#
Oceanfront Villas for Sale
#blog-footer-oceanfront-villas#
Golf Homes for Sale under ,000
#blog-footer-golf-view-homes-hhi-under-600#
Bluffton Homes for Sale under ,000
#blog-footer-bluffton-homes-under-500#