Another tourist season is beginning to wind down. We have survived hurricane season without having to deal with a storm of any major consequence. We are truly blessed on Hilton Head Island.
A lot of major renovations and new buildings are in the works. The island is changing every day right before our eyes.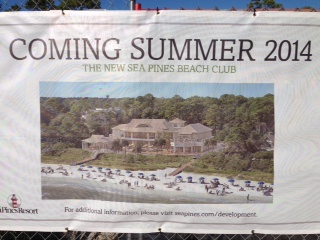 Sea Pines is building a new Golf Club where the old Plantation Club was for the Ocean Course and Heron Point Club that will have a grill and bar overlooking Heron Point and the Ocean Course as well as an inviting foyer and lounge areas for Sea Pines owners to enjoy. They are building a new Beach Club that will have an upscale restaurant for diners to have an oceanfront view as well as a casual beach bar and grill.
Also, the private beach, Tower Beach, is being rebuilt for the Sea Pines Owners to enjoy. It will include a small catering kitchen in the improved pavilion. The bottom floor of the pavilion will house 110 metal beach gear storage lockers 3'x5'x3-1/2'. A small improved Security Station is also part of the project. The Harbour Town Golf Club that hosts the PGA tournament in April is also going to be rebuilt.
Sea Pines Real Estate for Sale
The new Kroger Grocery Store located at Shelter Cove across from Palmetto Dunes is scheduled to open in December. The Piggly Wiggly closed last week. Whole Foods is opening in its place soon. The new fire department is almost completed. An added new guard gate is finished at the entrance to Palmetto Dunes. A new road connecting Queens Way onto to 278 will be happening soon.
Palmetto Dunes Villas for Sale
We are very proud of all these new exciting buildings and improvements. All things must change at some point. We already thought of our island as Paradise with our old buildings. We are all just so proud of the numerous things that have been approved for further enhancements. We thank you for your shared excitement.
So, if you are already an owner of Hilton Head property…. Count your blessings. And if not, call me so I can help you with finding your perfect spot in our little neck of the world. You will be glad you did.
Oceanfront Homes for Sale
#blog-footer-oceanfront-homes#
Oceanfront Villas for Sale
#blog-footer-oceanfront-villas#
Golf Homes for Sale under ,000
#blog-footer-golf-view-homes-hhi-under-600#
Bluffton Homes for Sale under ,000
#blog-footer-bluffton-homes-under-500#